Welcome to my home on the web. FiercePassions is a platform for inspiring, educating, and gathering those wishing to deepen their relationship to Self, Others, & The Divine.
CURRENT CONTEXT
We are in a particular moment in time: an extended moment when fear, panic, frustration & outrage threaten to overwhelm us on the daily. But at the same time every day more and more people are speaking up and speaking out against these forces that seek to restrict, and in some case actually destroy, our freedoms, our joys, our loves, and our very lives. These destructive forces aren't new—they're simply bolder and less afraid. It's important to note that these are the same forces that for eons have encouraged our disconnection from our bodies, our pleasures, and one another. These disconnections isolate us, making us easier to vanquish; they also separate us from fierce passion—the renewable, sustainable fuel we need to create the world we want to live in.
Passion is a word with many connotations. Depending on the context, we could be talking about sex and sensuality, spirituality and devotion, love and adoration, creativity, or politics. It's a key component in healthy relationships— with ourselves, our loved ones, The Divine, the planet and its inhabitants.
BUT WHAT IS PASSION?
Passion is a form of desire. It's a longing—for connection, to be understood, to be valued. It's a desire to love, to be loved; a desire for a world where we all are able to develop our potentials: mental, emotional, sexual, sensual, spiritual. It's a desire to be free to express the entirety of who we are. Passion is also a fuel, an energy source—the fire that feeds the work we do in the world. When we don't have access to that renewable fuel, we "burn out", we get "writer's block", our work lives are stagnant, our sex lives are unsatisfactory, our love lives are dreary and draining, we are unable to see the sacred in ourselves and others. We start "going through the motions" rather than being plugged in and engaged in this journey and adventure we call life.
WHAT IS FIERCE PASSION?
Fierce Passion is active rather than passive. Fierce Passion seeks out and embraces intensity and connection, rather than hiding from it or seeking isolation. Fierce Passion is curious rather than avoidant or indifferent. Fierce Passion is like an orchard at harvest: nourishing us with its fruits, fed in turn by the composting of that which we want or need to let go. Fierce Passion is like diving into an underground lake on a hot day: refreshing & invigorating. It's a mysterious place of limitless exploration. Fierce Passion understands that the body of self is connected to the bodies of others is connected to the body of community is connected to the body of the planet.
Fierce Passion understands that our collective and individual liberation begins in the body.
Fierce Passion has three pillars—embodiment (Presence), joy (Pleasure), and spirituality (Prayer). These provide a foundation that supports all aspects of our lives: joy, grief, work, play, sexuality, spirituality. Passion missing one of these pillars is unstable—it's not something we can lean on; it can't support the weight of our lives.

THE CHALLENGES TO FIERCE PASSION
Unfortunately for many of us, our histories— including trauma, experiences living in bodies marginalized by society, upbringing, etc—can affect the strength of any of those pillars. It can be challenging to be present because maybe being in our body hasn't always been a safe place to be. It can be challenging to feel pleasure because we believed the lie that we are undeserving of pleasure, or because pleasure has come with a steep price. It can be challenging to experience our flesh as sacred because we believed the lie that our bodies are the opposite of sacred because of who we are, and are thus unworthy of attention from The Divine.
If we have challenges, we are not broken, or doomed to unhappiness, or stuck in this place forever. We work with the body to identify and address the challenges, building and strengthening the pillars so that we can fully and fiercely embrace the passionate life that is our divine birthright.
I'm M'kali-Hashiki (em-KAH-lee-HAH-she-kee): a Renegade Sexual Mystic; a Tour Guide to the realm of Eros; & a Teacher of Somatic Erotic Possibilities. I'm a Certified Sexological Bodyworker; a Certified Sound, Voice, & Music Healing; and a Certified Tantric Sacred Intimate. I'm also a published essayist; a former professional social justice organizer; and an Ifa devoteé. My purpose on this planet is to help folx achieve the erotic life that is their Divine Birthright.
This purpose is fulfilled through four sacred paths:
Guiding people in group experiences of connecting directly to The Divine through physical pleasure

Giving people techniques to use their body and pleasure as a conduit to The Divine

Igniting people's epiphanies about their own connections to The Divine

Modeling healing my own erotic wounds working to lessen my pain & open myself to joy on every level
In concrete terms, this means I offer facilitated group events, online group journeys, individual sessions, trainings, instructional videos, and musings about the connection between eros, trauma, social justice & spirituality. I also present workshops at conferences across the country and offer private workshops for organizations & groups.
I was given the name Mkali Hashiki by a Priest of Oshun in the Ifa tradition. It means "fierce passion" in Swahili. I believe that we are all entitled to have passion in our lives, and to understand how being connected to our passion & creativity enhances our lives & the lives of those around us. It is my fierce passion for a happy, healthy, world that motivates everything I do.
I have a complex sexuality & sexual history. I have personal experience with polyamory, nonmonogamy, BDSM, and achieving mystical states during sex. I am—and have always been—a "sexual outlaw", as well as being a "triple minority" (Black, female, and queer); this has allowed me to view society's standards on sexuality with a critical eye. As a Scorpio, I have always been curious and intrigued by sexuality, and feel that my erotic sense is the most calibrated of all my senses, and is the filter through which I experience the world.
I am a Trauma Survivor currently addressing 30 plus years of undiagnosed & untreated PTSD. I understand the ways in which our triggers hide from us, popping up when we least expect it; the ways trauma can influence even the most mundane actions in our day-to-day lives; the ways minor triggers substitute for the major ones. While my traumatic incident was not sexual trauma, it still had an impact on my erotic growth & sexual development.
I have been deeply influenced personally, professionally, and politically by Audre Lorde's essay "The Uses Of The Erotic: The Erotic As Power" (if you haven't read it, you need to!). I believe her point that in order to maintain itself, oppression requires the repression of the erotic. Because of my politics, spirituality, and lived experiences—which inform all aspects of my work—because of the lies we are constantly told about what sex should be, about what is normal and acceptable; and because of the sexual truths that are vilified; I view my work in FiercePassions as a form of political rebellion.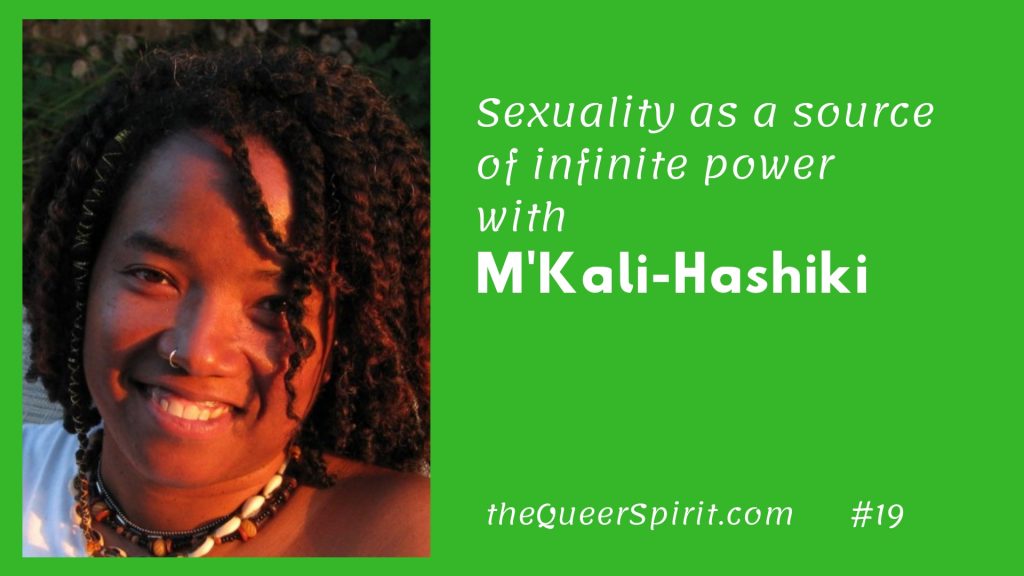 Nick & I discuss sexuality as a source of power & transformation, the 3 pillars of Fierce Passion, and the difference between the Sensual, the Sexual, and the Erotic.
As a kick off to the 72hr replay of the Queer Body Love Series 2017, Elizabeth & I chat about pleasure, joy and self-care for/during the resistance. (the video accidentally ended early, so here's last little ending clip)
Queer Body Love Speakers Series 2016
Elizabeth & I chat about loving our bodies as reflections of the divine. Bonus mini-Erotic Breathwork session.
I give Almah LaVon Rice some "tips for the aspiring sexual renegade and/or mystic."
Dr. Martha Lee & I talk about the body's connection to the Divine.
Ursula Ferreira from Apothecary For The Soul & I have a wide-ranging conversation about enstasy, erotic healing, and what white healers & educators need to know to work with People of Color.
Pavini & I chat about working with the ancestors to heal our erotic wounds and the integration of our erotic lives through breathwork practice.
Kristy & I chat about the creative process & eros. If you're a writer, you need to be reading her site.
Amy & I talk about the Spiritual & the Sexual; the troika of Body, Mind, & Spirit; Sound Healing; and The Vagus Nerve.
Jessica Crystal Joy & I talk about the Sacred Sexuality Community & Women of Color within that Community.